Under Construction
I
n addition to the Leman and Hawken rifles and the Trappers Pistol we commonly associate with Green River Rifle Works, the 1974 catalog listed these additional guns:
LEMAN MODEL 1822 TRADE RIFLE
GEMMER TRAPDOOR 45/70
ENGLISH SPORTING RIFLE
FOWLING PIECE – HALF STOCK
The 1975 catalog dropped three of the above guns, keeping the Gemmer Trapdoor, and added a new Northwest Trade Gun:
NORTH WEST TRADE GUN
GEMMER TRAPDOOR 45/70
These guns were no longer a cataloged item after 1975.  Apparently, few orders were received for them during the limited time they were offered, and the company's efforts were focused on the variations of the Leman, Hawken, and Trappers Pistol.  The trade rifles and trade guns definitely reflect Phil "Bluejacket" Sanders influence during his time with GRRW.  His departure may have been another reason they were no longer offered.
LEMAN MODEL 1822 TRADE RIFLE

I've not seen an example of GRRW's version of this rifle, though there may be one or more out there.  The description above from the 1974 catalog, suggests it was copied from one of Doc's original Leman rifles stolen in 1976.  There are a number of similar original Leman rifles in existence such as the one pictured below:

Someone at Oregon Trail Riflesmiths may have had access to one as they offered a very similar rifle in finished and kit form. This is from one of OTR's later brochures which pictured a left hand version of what they called a Leman Transition Rifle.  This rifle used the trigger guard and butt plate designed by Bluejacket Sanders while at GRRW, but the strongest similarity to GRRW's Leman Model 1822 Trade Rifle is the early Leman patch box.

The rifle below was built by Bob Lienemann in the 1980's, and possibly used some OTR/GRRW parts such as trigger guard and butt plate, but otherwise is his interpretation of an early Lancaster trade rifle such as those made by H. E. Leman and others.  It may also be quiet similar to GRRW's Leman Model 1822 Trade Rifle, if any exist.  The common elements in all these rifles are the four piece patch box with what some people call a "horse" finial, the trigger guard, and the butt plate.

GEMMER 45/70 – There are so few of these around that we had to copy the one illustrated in Baird's book, but it is as fine a black powder breech-loader as one can find.  Looks and handles like the halfstock Hawken except for the Trapdoor action.  Built with traditional GRRW hand-craftsmanship.

Specifications – maple halfstock finished with oil, one by 28 inch GRRW octagon barrel with Trapdoor action, rifled and chambered for 45/70 cartridge. Open rear and blade sights, all steel accouterments a la' S. Hawken, long tang double bolted through wrist to long DST plate, traditionally browned metal, available only in 45/70. Customer must furnish good sound trap door action.
Again, I've not seen one of these, but Doc White wrote about the prototype, and here Ed Trump mentions another one.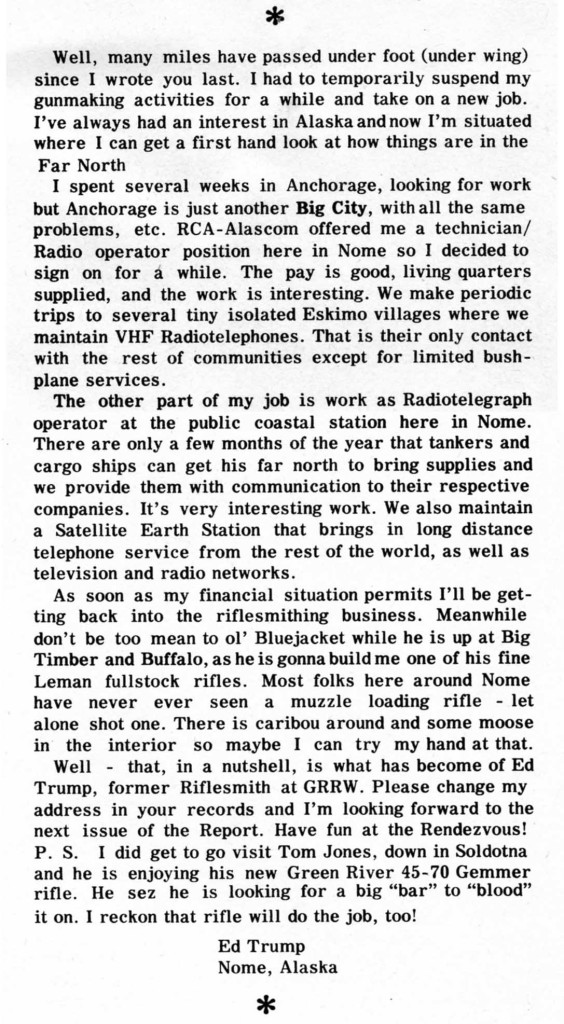 SPORTING-TARGET RIFLE – This is a meticulous copy of the famed British long range rifle developed during the 1850's and used at Bisley and Creedmore. It uses elongated bullets in a fast twist barrel for accuracy at extreme ranges. GRRW re-creates this rifle in its Sporting-Target version suitable for big game or target.

Specifications – Walnut stock with half pistol grip, in classic sporting-target style. GRRW full octagon barrel one by 32 inches, bar action lock, full patent breech, single trigger (DST optional). Steel butt plate, trigger guard and hardware, barrel cut for sights (sights not supplied). Barrels – (1) Slug: 45 caliber only, twist 1-16 with grooves .035, use paper-patched or lubricated bullet sized .450, minimum bullet weight 475 grain, recommend Lyman #457121; (2) Round ball: Calibers 45-50-54-58, 1-60 or 1-72 twist, grooves .012 deep, 7 lands and grooves; (3) Buck & ball: Smooth bore, cylinder choke, 58 or 69 caliber, for round ball or heavy charges of buckshot. All barrels interchangeable in a given gun.
This rifle reflects Doc White's interest in slug guns.  I'm not aware of any production versions of this rifle, but it is possible a prototype or two were built.
FOWLING PIECE – American colonial gunsmiths developed single shot fowlers of simple beauty but superb function.  GRRW has reproduced a fine fowler in their collection.  The Result is a fast handling shotgun capable of fine performance on wild birds or clay targets.

Specifications – maple halfstock with tapered GRRW smoothbore barrel with ⅓ octagon and ⅔ round, cylinder bore (55% patterns with felt wads, 70% with plastic shot collar wads), mounting under-rib and front bead sight.  Flint lock ignition with GRRW patent touch-hole, steel stock fittings throughout, all metal surfaces deeply browned, pull 14 inches, weight about 8 lbs., percussion ignition optional, 12 gauge only.
Again, I've not seen any examples of this gun.  GRRW appears to have been way ahead of its time with this offering and some of the others already discussed.  The tastes and interests of muzzleloader shooters had not matured enough in the mid-70's to form much of a market for this type of gun.
NORTH WEST TRADE GUN – This is a meticulously hand crafted copy of the famous fusil so widely purveyed on the American and Canadian frontier during the early days of the fur trade. Its smooth-bore barrel is capable of throwing a hefty charge of bird-shot, a handfull of buck, or a single patched ball with sufficient accuracy for hunting. It was truly a versatile weapon (a real meat gun) and remains so today. We have not attempted to copy any on of the various makers exactly, however, our Northwest Gun is reminiscent of the ones made by Henry Leman and Thomas Barnett during the middle period.

Specifications – Maple fullstock mounting a 30″ ⅓ octagon – ⅔ round, smooth bore barrel and properly styled flint lock. Brass butt plate, steel trigger guard, dragon side plate and hand filed thimbles all set off the hand filed "wedding bands" on the barrel. Bore size is 24 gauge and each gun is furnished with its own wad cutter. Pull length is 14 inches and weight about 7 lbs.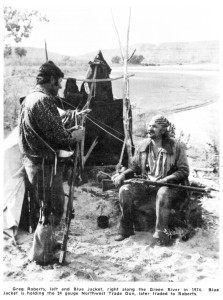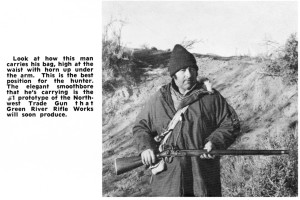 This one is pure Bluejacket.  Doc White wrote a piece in his "from the Hunter's Shack" column in the January, 1976 issue of Muzzle Blasts about Bluejacket building a 24-bore Northwest Gun with a GRRW barrel and trading it off to Greg Roberts.
The Northwest Trade Gun is another rare GRRW gun.  It only appeared in the 1975 catalog, though GRRW continued to advertise Northwest Trade Gun barrels in some of their print ads.  Doc's column in the January, 1976 issue of Muzzle Blasts also mentions the barrels and states that a rough shaped stock for the Northwest Trade Gun was available from GRRW.
It's not clear why this gun didn't receive more orders than it did.  The only competition was from Green River Forge of Belleview, Washington.  Green River Forge offered a Northwest Trade Gun along with a Hudson's Bay Factor's Pistol and a half stock rifle they called the Astorian.
It's possible that the gun did not receive much promotion by GRRW after Bluejacket left the company.
That fact that GRRW offered these guns in 1974 and 1975 shows how ambitious they were in trying to supply guns to buckskinners and other re-enactors.  Nineteen seventy-four was a pivotal year for the company.  They not only expanded their line of guns and began making their own barrels, they dramatically expanded their workforce.  See the article "Green River Rifle Works" that appeared in the November, 1974 issue of The Buckskin Report to get a better feel for the times.