Under Construction
Green River Rifle Works listed a Trappers Pistol in their 1974 catalog. The standard configuration was "maple half stock with one by 8 inch GRRW barrel, rifled 1-20 with .012 deep grooves, single trigger, brass fittings, properly styled percussion lock."  Options included fancy wood, lighter barrel, flintlock ignition, and full stock.  They were available as factory finished, a semi-finished (in-the-white) kit, and a basic kit.  These were regular catalog offerings until the business closed.
These ads are from the catalog section of Lyman's Muzzleloader' Handbook, copyright 1976, and illustrate the larger half stock version and a smaller full stock version.
Below is a picture of a Trappers Pistol being stocked by a GRRW smith.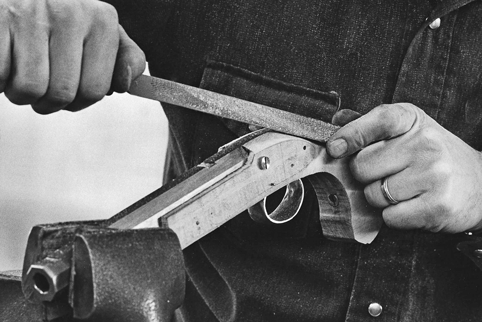 In this article, we'll present examples of both a percussion half stock and a flintlock full stock Trappers Pistol.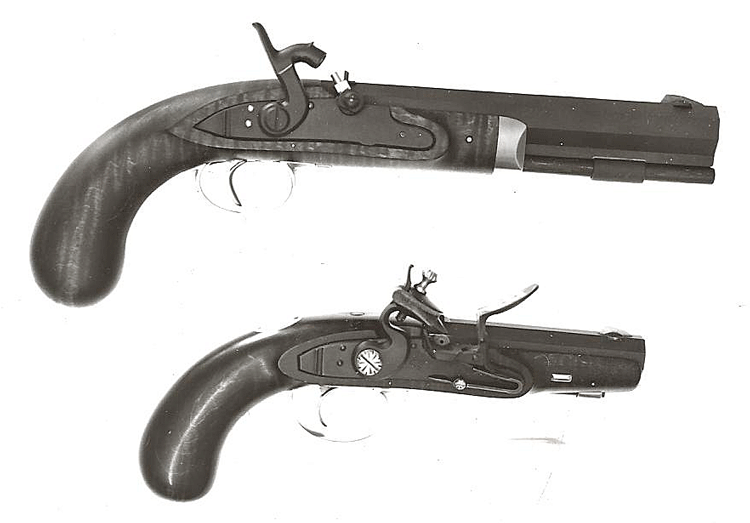 Our example of the standard GRRW Trappers Pistol has several components and characteristics in common with the Leman Trade Rifle.  Its 1" x 8" barrel is .54 caliber and has a slow 1:60 twist, though 1:20 twist was also available.  The makers mark on the barrel is that of Don McKee.  It has a small Siler percussion lock, single trigger, Kentucky style fixed breech plug, drum and nipple ignition, brass trigger guard, and steel belt hook.  The nose cap is poured pewter similar in style to their Leman Trade Rifle.  In fact, these pistols make an excellent companion to the Leman Trade Rifle.
We don't have a manufacture date for this pistol, but suspect it is a later version of the model due to its configuration and the P-79 serial number.  Mike Nesbitt discusses shooting an earlier version of the GRRW Trappers Pistol in the February 1977 issue of Buckskin Report.  The photo of his pistol shows what appears to be a Kern coil spring lock which was used on GRRW's early Leman Trade Rifles.  He described his Trappers Pistol as "bulky" and didn't like the shape of the grip as every shot gave his middle finger a terrible blow from the trigger guard.
The pistol grip on the pistol pictured below is very comfortable, and the trigger is just the right distance for my trigger finger.  There is only a small amount of creep in the trigger pull.  The only time the trigger guard smacked me was when I was trying a two-hand hold and had a finger of the second hand against the lower back of the guard.  There was no problem when I shot it with a single hand or made sure that my overlapping fingers were clear of the rear of the guard in a two-hand hold.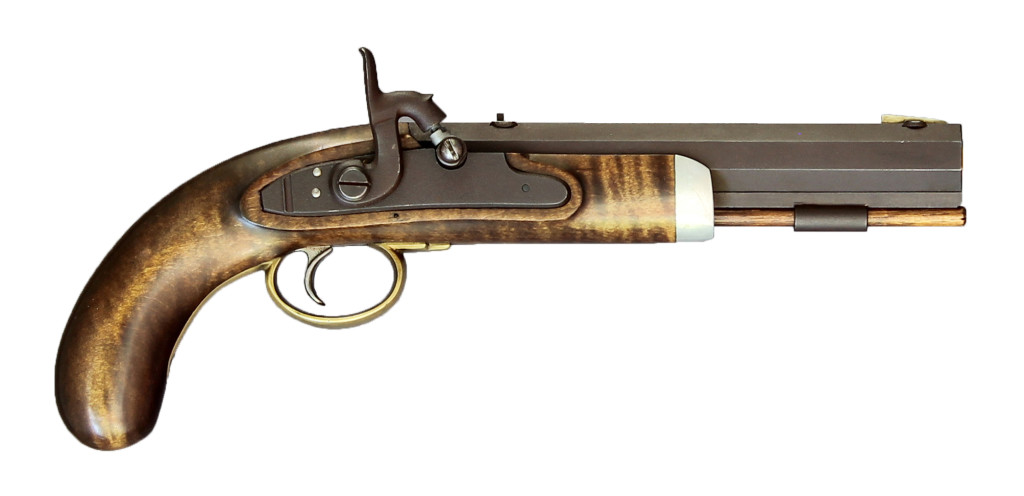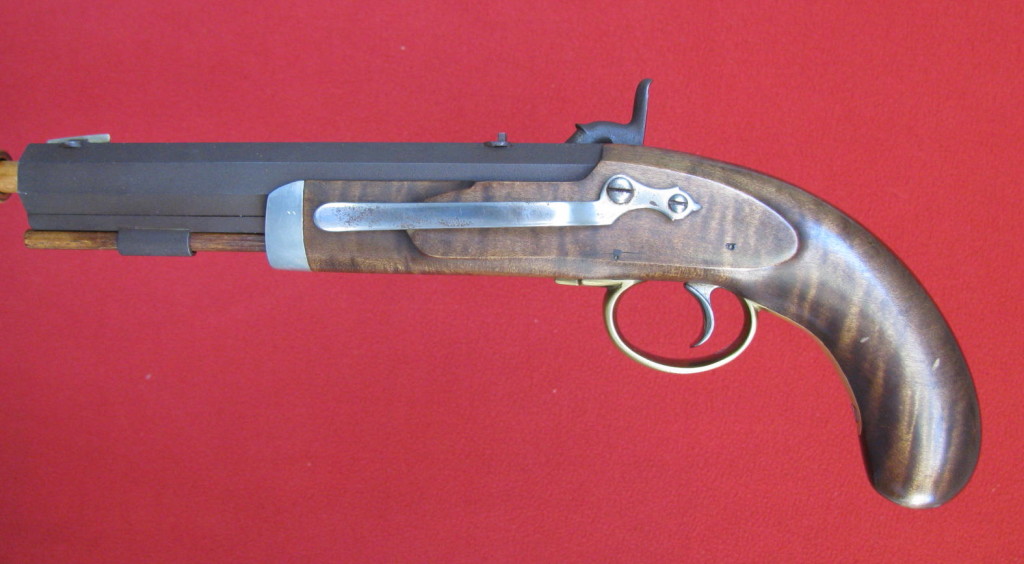 The belt hook was an option on a factory finished pistol but not available with kits.  These belt hooks appear to be unique to GRRW and were likely made in their machine shop.
The low sights are a challenge and take some getting used to for target work.  It points well and is perfectly suitable for its original purpose as a close-in defensive weapon.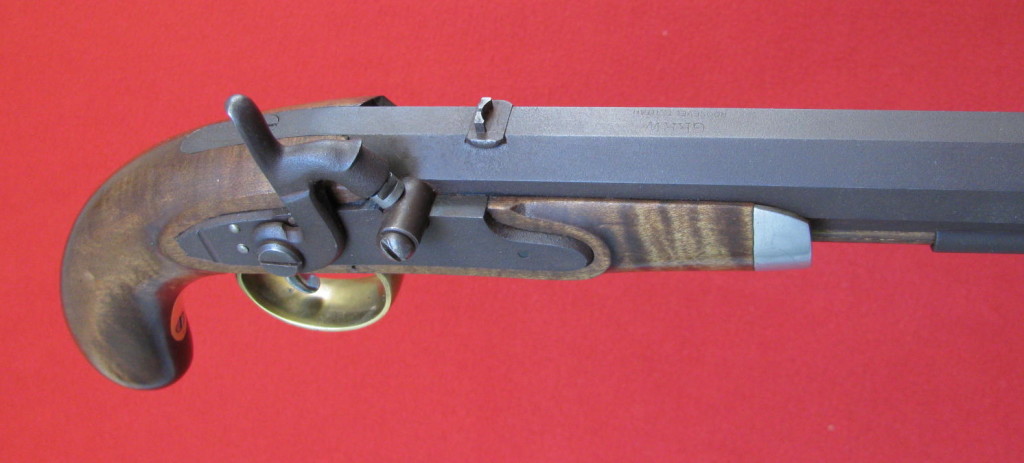 This particular pistol has a smaller than normal bore for a .54 caliber marked barrel.  The bore measures .530" and requires a .526" ball with thin patch or .520" ball with thicker patch.  The first and only shooting session so for used 0.526″ cast balls loaded with the 0.010″ patch and Hoppe's 9 Plus Black Powder lube over 30 grs of GOEX FFg.  The patch and ball combination required a pretty good bump of the starter to get them started, but not much pressure to push them down and seat them.  In a future shooting session with this pistol, a different load combination such as some 0.520" balls with a thicker patch, and some FFFg powder in smaller charges will be tried.
Below is a sample of a Trappers Pistol kit assembled by an unknown builder.  The nose cap appears to be browned steel, though it is shaped like a shorter version of the factory poured pewter.
As noted, the catalog options on factory finished pistols included fancy wood, lighter barrel, flintlock ignition, belt hook, and full stock.  Below is another picture from Dr. Gary White that was developed for GRRW's print advertising showing some of these options.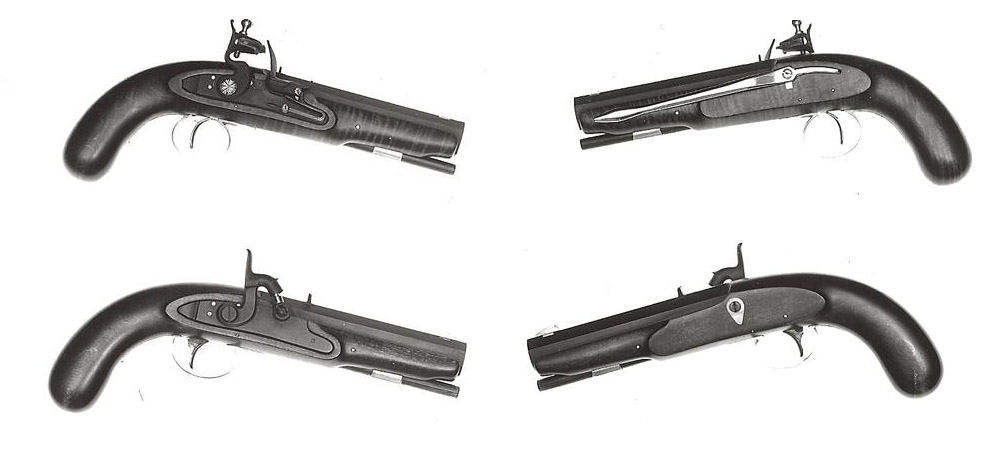 The next GRRW pistol is an example of the smaller flintlock, full stock version.  Based on the black-and-white photos above, this pistol is pretty typical of the full stock version.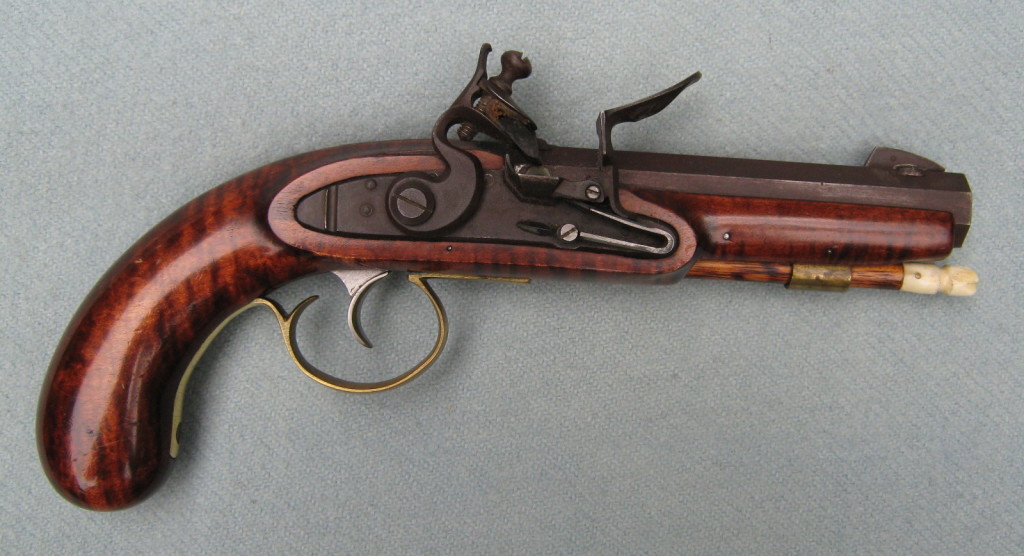 It has a small Siler flintlock, single trigger, brass trigger guard, a 15/16" x 6" barrel, and is .54 caliber.  There is no butt cap on the end of the grip, nor is there a nose cap on the end of the forestock.  It's a very simple, unadorned pistol perfectly suitable for the fur trade.
As can be seen, the trigger guard and belt hook are different than those used on the half stock pistol, being more suitable for this smaller pistol.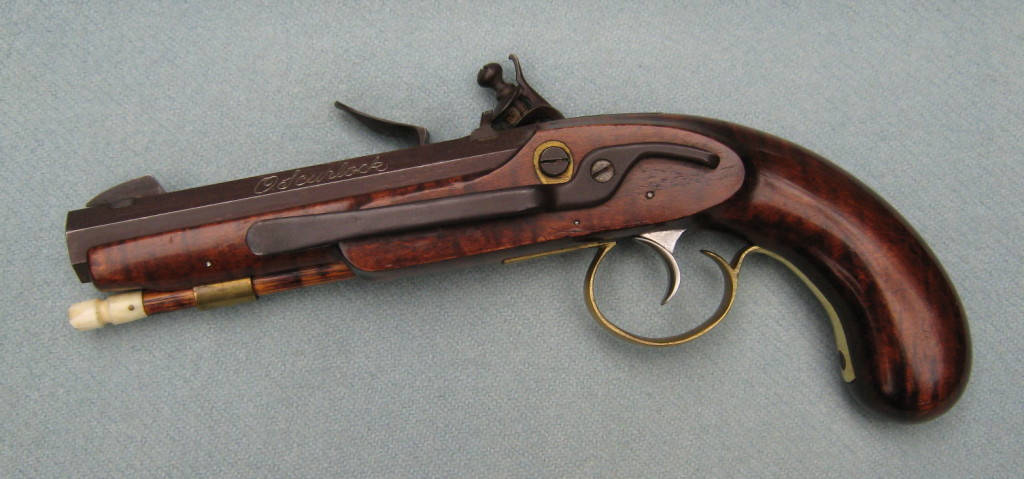 The makers mark is that of Neill Fields.  The rear sights on both pistols may have been hand made in the GRRW shop.  The sights on this flintlock are taller and easier to acquire than those on the percussion pistol above.
We don't know how many of the Trappers Pistols were made by GRRW, but based on these examples, at least 100.
The Trappers Pistol was not copied from any particular historical pistol, but is representative of the many belt pistols that were regularly traded during the fur trade period.  The rounded tail of the lock on the flintlock version would be appropriate for the early 1800's, while the clipped tail of the percussion lock on the half stock version is suitable for the later percussion period.  The drum and nipple and lack of butt cap suggest an inexpensive pistol that could be afforded by just about any trapper that desired one (or two).